You can Make this hamster Walk! Hold Shift and press J,K,L, or I.

You are in Section 1 of this site. To go to section 2 ("The educational section") click here(note: some of the above links will also redirect you to section 2).




Family Photos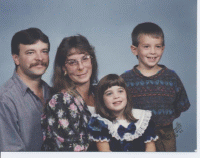 We have tons and tons and tons of family photos. I started scanning them in and i will post them all here by the order of albums they were in. Just click on the album to view the pictures that were in it, There are descriptions below the albums that tell what types of pictures are in it to give you a general idea.


| | |
| --- | --- |
| This album contains photos of my mom's family when she was young and of my parents wedding. It also contains pictures of me and me sister when we were you younger(I was 6,7 she was 4,5) and photos of christmas's and reunions on my mom's side. | My mom has a digital camera now and has been taking alot of digital photos. These photos will be sorted by the year and month in which they were taken. |